Web Marketing Resources Home

Web Marketing Articles

Search Engine Optimization

Free Training

Marketing Jokes

Current Issue

Back Issues

John's Articles



Free Search Engine Marketing & Optimization Tools:


Keyword Suggest
Keyword Density
Keyword Typos
PageRank Search
Future PageRank
Link Popularity



How To Write Invisible Sales Copy
by Joe Robson

As any serious marketer knows, a Powerful and effective Sales message should be built around the basic structure of tried and proven 'rules' which have been used by successful marketers for tens of decades, (see my free tutorial, 'Rules')

Many people know the Pro's and Con's of Hard Sell, Soft Sell, Persuasive, Long and Short Copy - each of which works well in the right situation. But now there's a new method of Copywriting beginning to proliferate the Internet which is breeding like wildfire. I call it ...

Invisible Copywriting!

And it's one of the biggest secrets of an ever expanding closed circle of Wannabe Internet marketers.

Yet conversely - even though the system is widely used -it's only kept secret because the messages containing that secret are themselves invisible to normal sensible people.

Because they're hardly ever read!

Ever spent hours trying to find something in your home or office, and it finally turned up right under your nose. It's something which has been in your line of vision so often that it finally became ...... invisible!

Well, the basic principle of writing Invisible Sales Copy is exactly the same. Just fill a Web page with the type of words and phrases that the reader has already seen a thousand times over on his surfing travels, and bingo - the message disappears!

So if you want to become an Invisible Copywriting Guru, here's a 10 point strategy ...


1. "Use the Word Killer as Many Times as You Can"

eg.
Killer headlines,
Killer ezine,
Killer marketing,
Killer advertising
Killer sales Page,
Killer order Page,
Killer offer
Killer product
Killer absolutely anything.

Then edit, re-edit and edit again until you can't find space for any additional Killers.

Amazingly, the more you use it, the more transparent your copy becomes.


2. "Use Hyped up Phrases like ..."

"Suck up your visitor's cash like a giant turbo charged
vacuum cleaner on steroids".

"Have your customers stampeding to your Order page and
clamoring to buy your product".

"Send so many visitors to your Website, that your hit
counter will scream for mercy".

3. "Saturate your Sales Message with Superlatives"

Don't just say your product is marvellous, or fabulous, or even unique. Use a phrase like ...

"My Mega Powerful Order Page Crowd Generator is the most marvellous, fabulous, mind blowing cash creator the Internet has ever seen".


4. "Write a 25 line, 67 word Headline Saturated with Irresistible 'Hot Triggers'"

It's no use writing an effective headline like ...

"How To Earn an Extra $100 a day with No Previous Experience".

To make it invisible write something like this ...

"At Last. Now You Can Discover How To drive desperately frantic buyers to your Website with an Amazing Headline so Powerful, so irresistible and so appealing, they'll be Overloading Your Server, Jamming Your mail Box, and Throwing So much Money at you, you'll be Stuffing Your Bank Account with more cash than Your Bank Manager can handle. And You can use this little known secret in under 2 hours a day in your underwear, working from your kitchen table".

An added bonus to this technique is that the longer the headline, the less need there is to write any Sales Copy.


5. "One Irresistible Bonus is Not Enough"

You've got to hand it to them. Invisible Copywriters have realized that the offer of a genuine Free Bonus can help to close the sale. But why stop at one, or even two? You have to offer 'Genuine' $2465.00 in Free Bonuses' if they buy your $19.95 ebook with full resale rights and 157 re-brandable affiliate links. Also include a free subscription to your ezine which is normally a $195 value.

6. "Avoid any Suggestion of Persuasion"

Hey, this is the Internet. Invisible Copywriting Gurus believe that persuasive Copy doesn't work on the Web. Because Internet Surfers are different animals to 'ordinary' off line customers.

So you have to hit your reader between the eyes, in the groin and in the face with killer phrases and unbelievable promises which will make their toes curl with embarrassment and disbelief. Any suggestion of persuasive copy will turn them off completely. The secret to closing the sale is to leave them so badly bruised and battered they have to fill in your order form and submit their order to ease the pain.


7. "Offer an Unbelievable Guarantee"

Straight forward guarantees filled with credibility are no longer cool. The following no longer works ...

"If for any reason whatsoever, you are not absolutely delighted with Your Radion Garden Hose, simply let us know within 90 days, and we will refund your purchase price immediately. No questions asked"

To strengthen the Invisibility Factor you must offer something like this ...

"And don't forget, you are covered by my unbelievable, Jaw dropping, industry leading, call-me-an-idiot-if-you-must, cash back in your pocket, refund promise. All I ask is that you use it for a full year, and if you're not satisfied, return it in it's original packaging (along with your reason) and I'll refund your money less shipping costs".


8. "Avoid any Trust-Building Factors at All Costs"

Whatever you do, do NOT give any details of your name, your credentials, background, physical address, or contact email. Even though these factors have been proven off line winners for years, Internet users have no worries at all about being ripped off by scammers. This IS the 21st Century after all!


9. "Make Your Reader Hunt for 10 minutes for Your Price"

I'm not saying you should publish your price above your headline. Too soon and you may blow the sale. But whatever you do, make it so difficult to find that it's invisible.

Don't worry about the well known buyer's habits of scanning your Headline, your Price and your PS. Invisible Copywriters try to force their readers to scan through loooong pages, click to 'Order Now' page - then read more copy, click to the Order form, and hide the price halfway down the Order Form itself.

The theory behind this strategy is that their readers are different to 'normal' buyers, and never have a suspicious thought in their heads.


10. "One P.S. is Not Enough"

Invisible Copywriters have latched on to the fact that a PS in a Sales Letter is the second most read part of the message. So they go a stage further and end with ...


P.S.
P.P.S.
P.P.P.S.
P.P.P.P.S.
P.P.P.P.P.S.

This is probably good thinking, because having so many PS's is a subtle way of getting their readers to absorb a second page of Sales Copy. After all, everyone reads a P.S. Very clever!


Summary

Writing Invisible Copy is easy. Just overuse and exaggerate every proven aid to selling and Copywriting, in one excessively long and boring page of Sales Copy, and bingo

It disappears!

Along with your potential buyers. So you don't have to worry about processing orders or answering support emails.


But here's an even bigger secret that even the most prolific Invisible Copywriter doesn't know ...

It's called the Invisible Sales Copy Shortcut ...

Just publish a blank web page!

It's cleaner,
Uses lots of white space,
Saves readers from scrolling and clicking through.
And it's instant - so quick you can churn out top quality invisible sales copy at an incredible rate. It's a no-brainer! You don't even need an Order Button or an Order page, because your reader's will never use it!

In fact I spent hours designing an instant Invisible Sales Copy Template for you to use whenever you wish. Yes, I've 'spilled my Guts' to bring you the most mind boggling secret to Invisible Copywriting ever devised! And it's guaranteed to drive visitors away from your Website so fast, they'll need oxygen to survive the force of the slipstream!!!! All you have to do is copy and paste it into your new Web page. It's at http://adcopywriting.com/invisibletemplate.htm

And, yes, it's free - a genuine $777 value!

Keep smilin'.

Joe Robson.
P.S. I intended to recommend the names and email addresses
of some Invisible Copywriting Gurus, but I couldn't find
contact details on their Websites.


Joe Robson is co-author of Make Your Words Sell with Ken Evoy, and owner of The Newbie Club. You can subscribe to his Copywriting Newsletter at http://adcopywriting.com - one of the most respected Copywriting tutorial sites on the Web.
---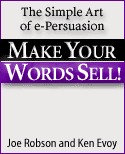 Make Your Words Sell! concerns itself with the only kind of Web copy of interest to serious Internet marketers the world over.

It's about writing Internet sales copy that grabs attention – and holds it tight.

It's about writing Internet sales copy that persuades, and motivates readers into action.

To put it simply...
It's about writing words that sell on the Net...For YOU

---
If you're interested in information on advertising copy, or web copywriting, you should read Make Your Words Sell!
Be sure to read Larry Chase's great article, 'Top 10 Sales Letter Writing Tips'.