Mobile Website Builder: myMobi

Mobile websites are increasingly becoming a necessity for businesses.
It's estimated that by 2015, there will be more internet searches done on mobile devices, than on desktop computers. This has important implications for business- particularly LOCAL businesses.
Increasingly over recent years, local businesses have found it harder and harder to rank their websites in the search engines- Google especially.
Once upon a time they could build a reasonable website, fill it with some useful content built around relevant keywords, and have a good chance of getting high on Page One of Google. The things started to go downhill. Let's take an example of someone who had their site ranked at #3 in the good old days.
First, advertising appeared on Google. Now it usually occupies the top 3 positions on the page, so that #3 listing was now down at #6.
Then Google+ Places came on the scene. This was a feature of the search results introduced by Google to make it easier for customers to find suitable local businesses for the products they were seeking. There are normally 7 Places listings. So our guy who started with a #3 listing, and went to #6 below the ads, is now at #13, below 3 ads and 7 Places listings. It's hard to keep up.
Meanwhile, there's even further bad news. Not only has he dropped to #13 in the search results, but the increasing number of mobile searchers don't hang around his site, because it looks awful on a mobile device.
Clearly, our friend needs to do 3 things...
1. Get a fully-optimised Google+ Places listing.
2. Get his existing website tweaked, updated, optimised etc.
3. Get a mobile version of the website.
If you're lucky enough to be starting from scratch, make sure that you build a responsive website. Very simply, this type of site will automatically adapt itself to standard computers, tablets or mobiles. One fits all sizes!
If you have an existing website, and don't want to budget for a complete new (responsive) site, or an extensive new mobile site, then you'll need to develop a basic mobile site.
Prices for having a third party build a basic 5-6 page mobile site can vary from $ 195 to $ 895. If you thinks that's good, then Great! If you think it's a bit expensive for you- that's Great too. Why? Because I have a solution for you that costs less that $ 40! I'm so happy with it that I purchased one for my own use.
It's called myMobi, and here's a taste of what it does...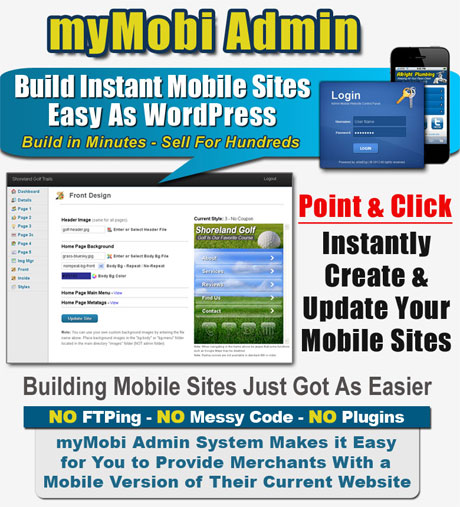 Heres a look at what it can produce...
And here's video to tell you a bit more...

If this looks of interest to you, the I suggest you check myMobi out NOW, while the price is still an incredible $ 39. Yes, that's a once-only cost, with nothing else to pay, ever.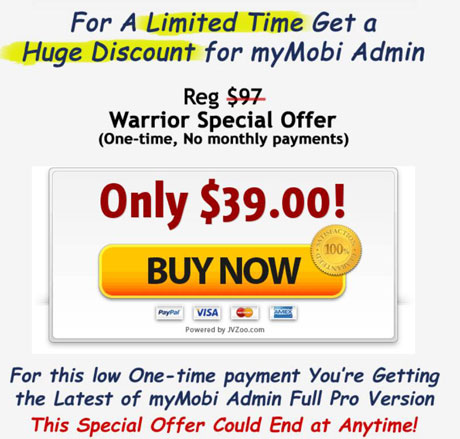 So, if you want to buiild a mobile website for your own use, It'll cost you just $ 39 to do, with myMobi.
If you want make some serious money, then use myMobi to build mobile websites for others. You now know the cost- $ 39. Check out what people are charging in your area, and go for it.
Disclosure: After I purchased my copy, I was so impressed that I joined myMobi's affiliate program. If you buy through my link, I will get a commission. It won't cost you a cent, but it will help pay the costs of producing this information for you. Thanks, JP.
If you decide to make a business of building mobile sites for others, you'll want to do as much as you can to automate the process of discovering which companies in your area already HAVE a mobile site, or a responsive website. You don't waste time on them, you just concenmtrate of the businesses with standard websites. A tremendous tool to help with this is Mobile Site Verifier. I also purchased a copy of this for my own use. Check it out for yourself, here.
Don't fall behind your competitors by not having a mobile website!